2 718 800 AED - 13 999 898 AED
Location:
Palm Jumeirah, Dubai
Completion date
III quarter, 2021 (Completed)
1 bedroom
min. 2 718 800 AED
3 bedrooms
min. 13 999 898 AED
Advantages

Type of buildings:
Residential

The commissioning of the object
Q3-2021


52-storey residential complex

Location
Close to the beach
Close to shopping malls
Environmentally pristine area
Sea nearby
Sea view
City view
Panoramic view
Features
Panoramic windows
Balcony
TV
Internet
Fully furnished
Finished
Premium class
Indoor facilities
Restaurant
Cafe
Bar
Healthcare facilities
Laundry
Cinema
Recreation area
SPA centre
Hairdressing salon
Beauty salon
Fitness room
Squash
Shopping centre
Elevator
Covered parking
Outdoor features
Barbecue area
CCTV
Children's playground
Children's pool
Landscaped garden
Landscaped green area
Household cleaning service
Garden
Swimming pool
Tennis court
Shop
Supermarket
Features
Complex Living
We present to you… The Palm Tower! A brand new property development by Nakheel PJSC (a well-recognized construction company). This is a sophisticated multi-purpose complex including a 5-star hotel and upmarket residential units. The Palm Tower is an impressive 52-floor construction, crowned with a massive sphere, housing a restaurant with panoramic views of Palm Jumeirah.
The building offers all the amenities only luxury real estate in Dubai can provide.
Uniqueness
The tower is situated on the "trunk" of Palm Jumeirah and is part of the Nakheel Mall complex. St. Regis hotel occupies the first 18 floors.
Studios and 1-bedroom apartments are sold on floors 19 to 45. There are 2 or 3-bedroom apartments on floors 46 to 47. Each residence has a balcony and an additional room for staff.
The complex's residents and guests can visit a rooftop restaurant, an infinity-edge pool, and an observation deck, where people are transported by a high-speed elevator.
The Palm Tower infinity-edge pool is the highest infinity pool in the world. It is situated on the 50th floor (about 210 meters high). It contains approximately 930,000 liters of water and covers an area of ​​775 m2.
The Palm Tower provides direct access via a bridge and several walkways to Palm Jumeirah Beach Clubs and other interesting locations.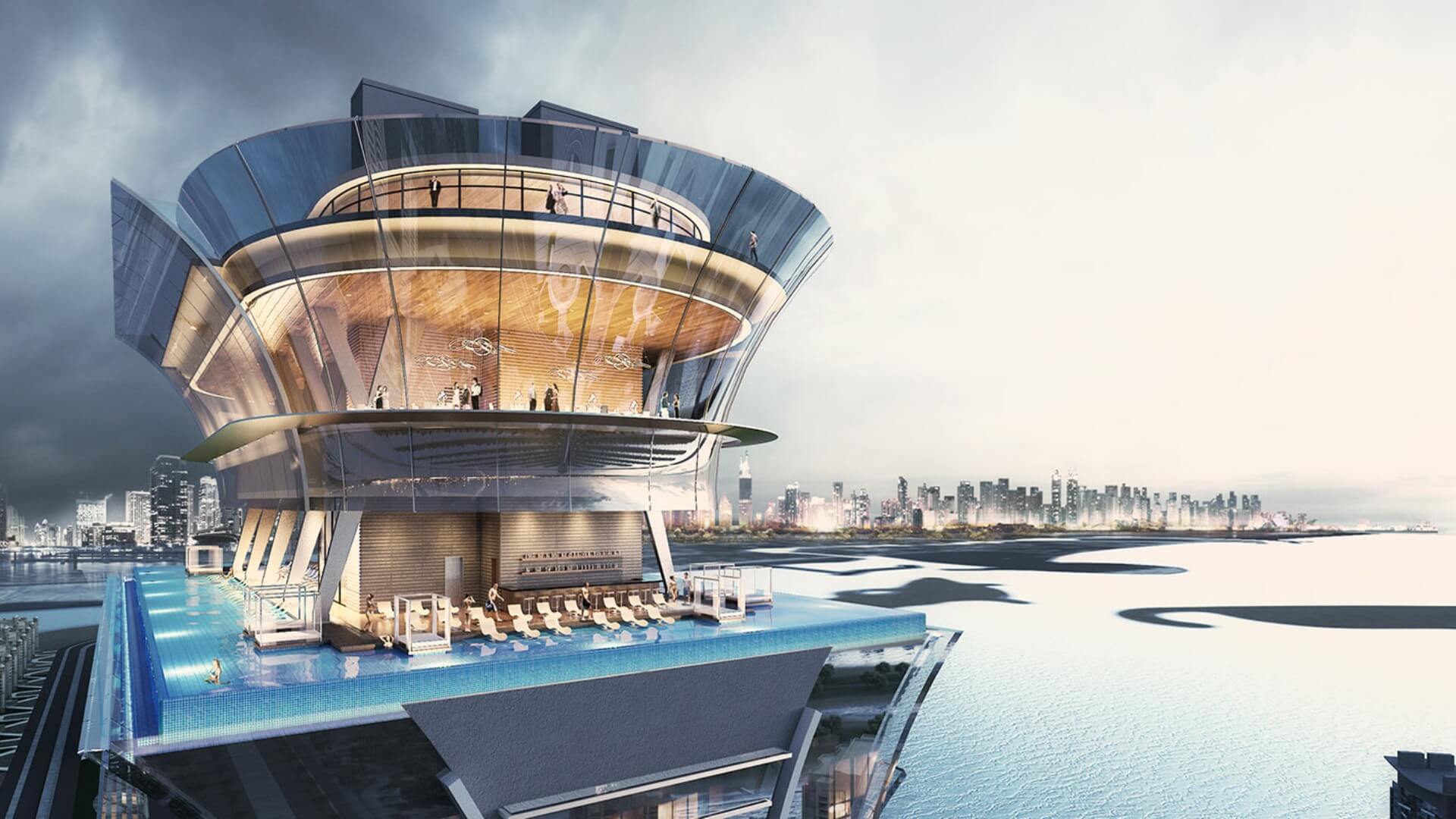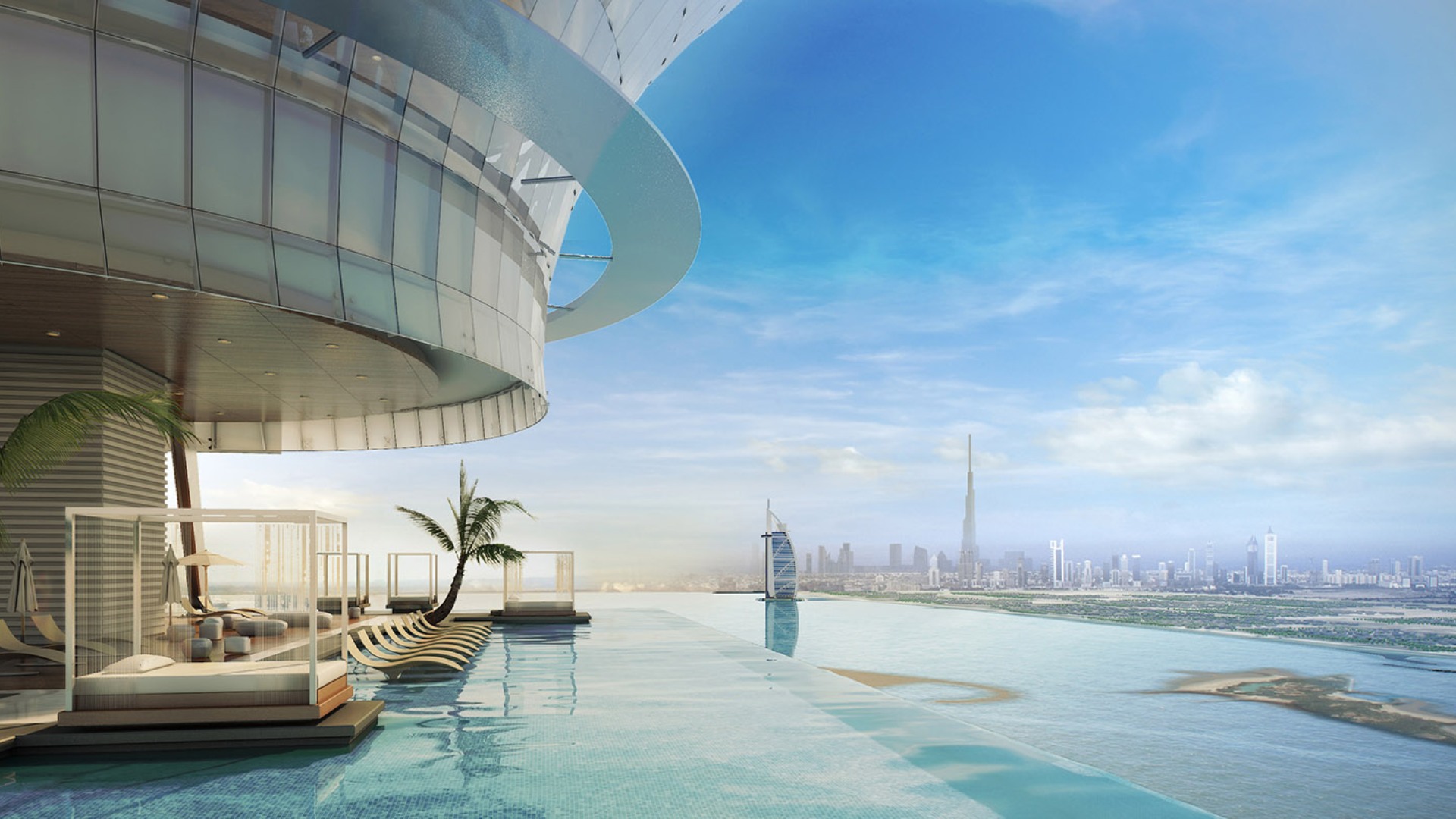 Architecture and Design
The complex's design is inspired by the shape of a palm tree. The building is narrower at the bottom and gradually expands towards the top, opening like a palm crown to accommodate an observation deck, a swimming pool, and a restaurant. The building is lined with glass panels. When looking at the facade, it seems that it consists entirely of windows. This is partly true as all the apartments have floor-to-ceiling panoramic windows. They offer majestic views of the island and the sea.
Economical Attractiveness
If you are going to buy your piece of luxury property and later rent it out or take up residence, investing in real estate in The Palm Tower is a perfect option for you. This property combines the uniqueness of Dubai's iconic landmarks, Palm Jumeirah, a fantastic location, as well as world-class luxury. Given these facts, there is no reason to doubt ROI. If you rent a property on the island, you can receive up to 5.84% per annum.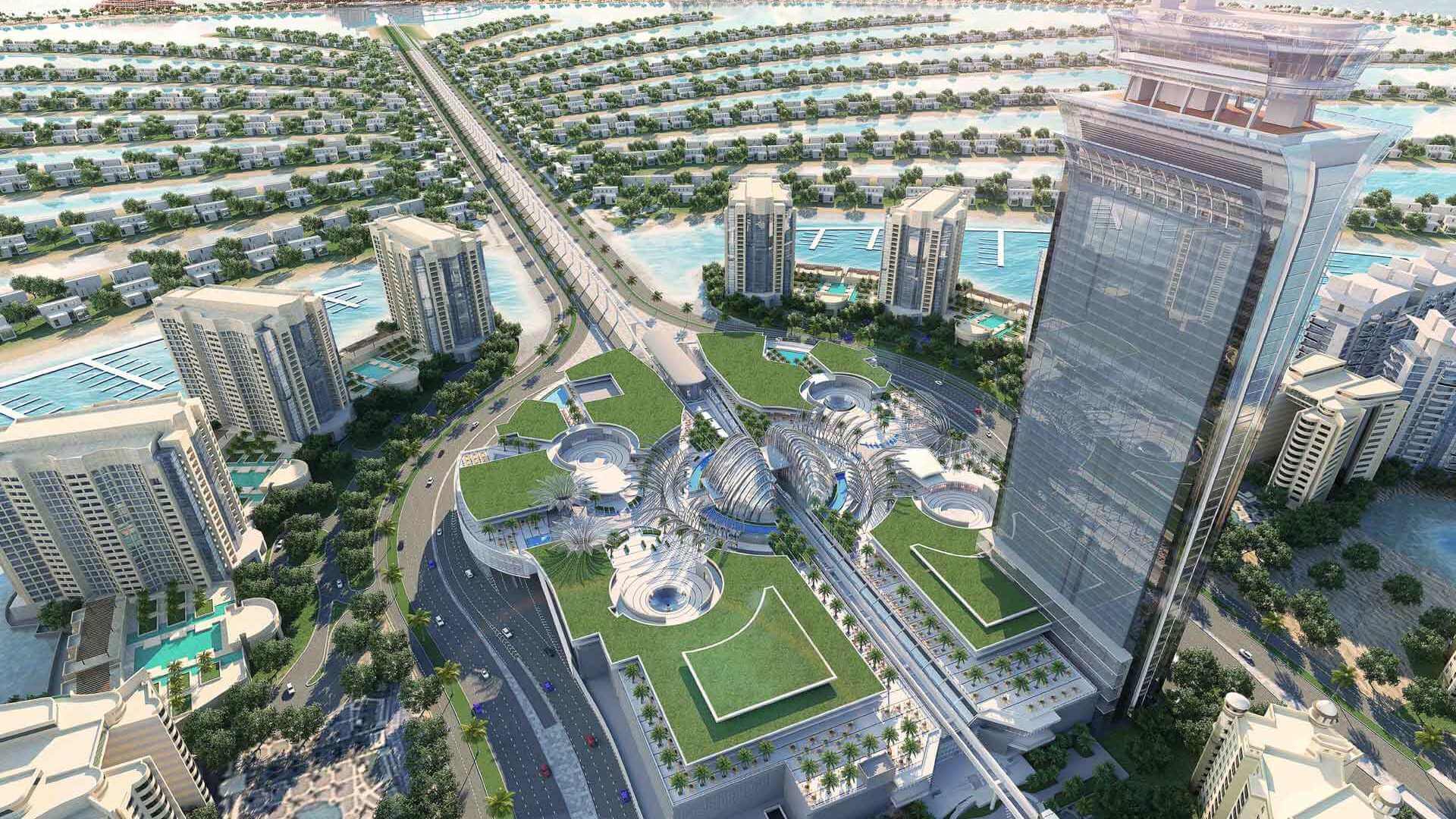 History of Cinema Museum
6.4 km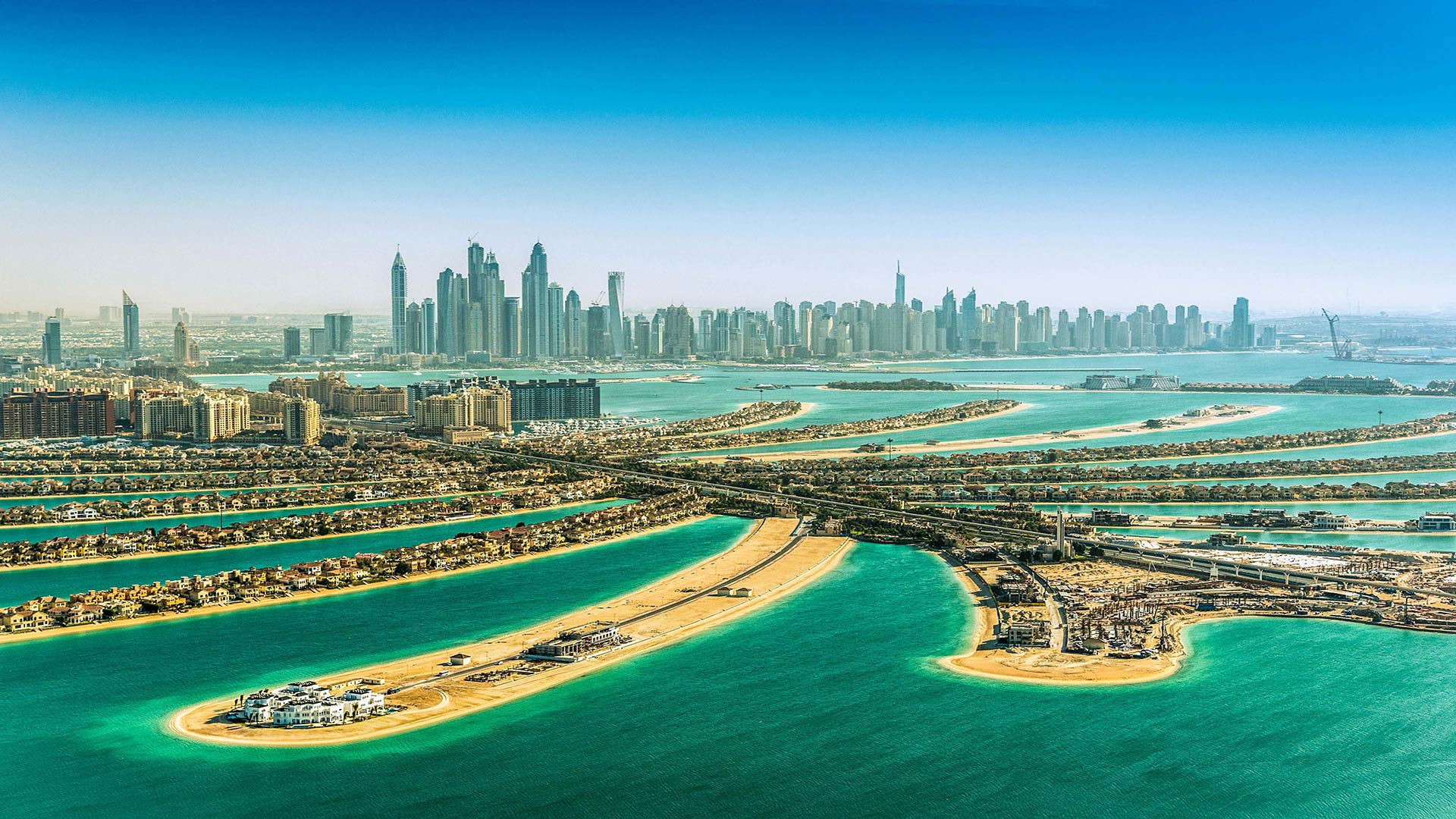 District Palm Jumeirah
The tree-shaped island with luxury hotels, tall buildings and luxurious restaurants deservedly attracts the attention of investors. From the embankment, you can enjoy a view of the Dubai coastline and the Burj Al Arab Hotel. The first and most compact of all (and there are three) man-made islands that make up the shape of a Palm Tree.
"The eighth wonder of the world", built by human hands and visible even from space.
Layouts THE PALM TOWER
Studio, 49m²

| | |
| --- | --- |
| Living space | 49m² |
| Bathrooms | 1 |
| Bedrooms | Studio |
| Available apartments | 1 |
| Price | 5 500 000 AED |
Properties in THE PALM TOWER
3

5

265 m²

Completion date

III quarter, 2021 (Completed)

Swimming pool

Balcony

Terrace

Elevator

1

2

99 m²

Completion date

III quarter, 2021 (Completed)

Swimming pool

Balcony

Terrace

Elevator

1

2

85 m²

Completion date

III quarter, 2021 (Completed)

Swimming pool

Balcony

Terrace

Elevator

1

2

98 m²

Completion date

III quarter, 2021 (Completed)

Swimming pool

Balcony

Terrace

Elevator
Developer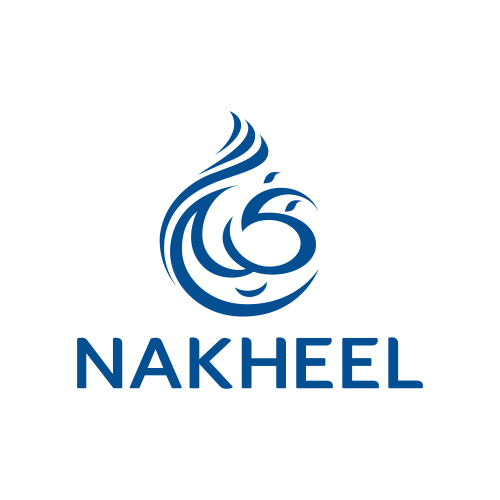 Nakheel is a world leading property developer. Our portfolio includes some of the world's most recognisable lifestyle, leisure and retail landmarks. Our developments are now a distinct part of Dubai's landscape.
Details
Completion date

III quarter, 2027 (Off-plan)

3 450 000 AED - 4 798 800 AED

Completion date

IV quarter, 2023 (Off-plan)

4 bedrooms

min. 3 450 000 AED

5 bedrooms

min. 4 798 800 AED

Available objects

4-5 bedrooms

Completion date

IV quarter, 2013 (Completed)