About Falcon City of Wonders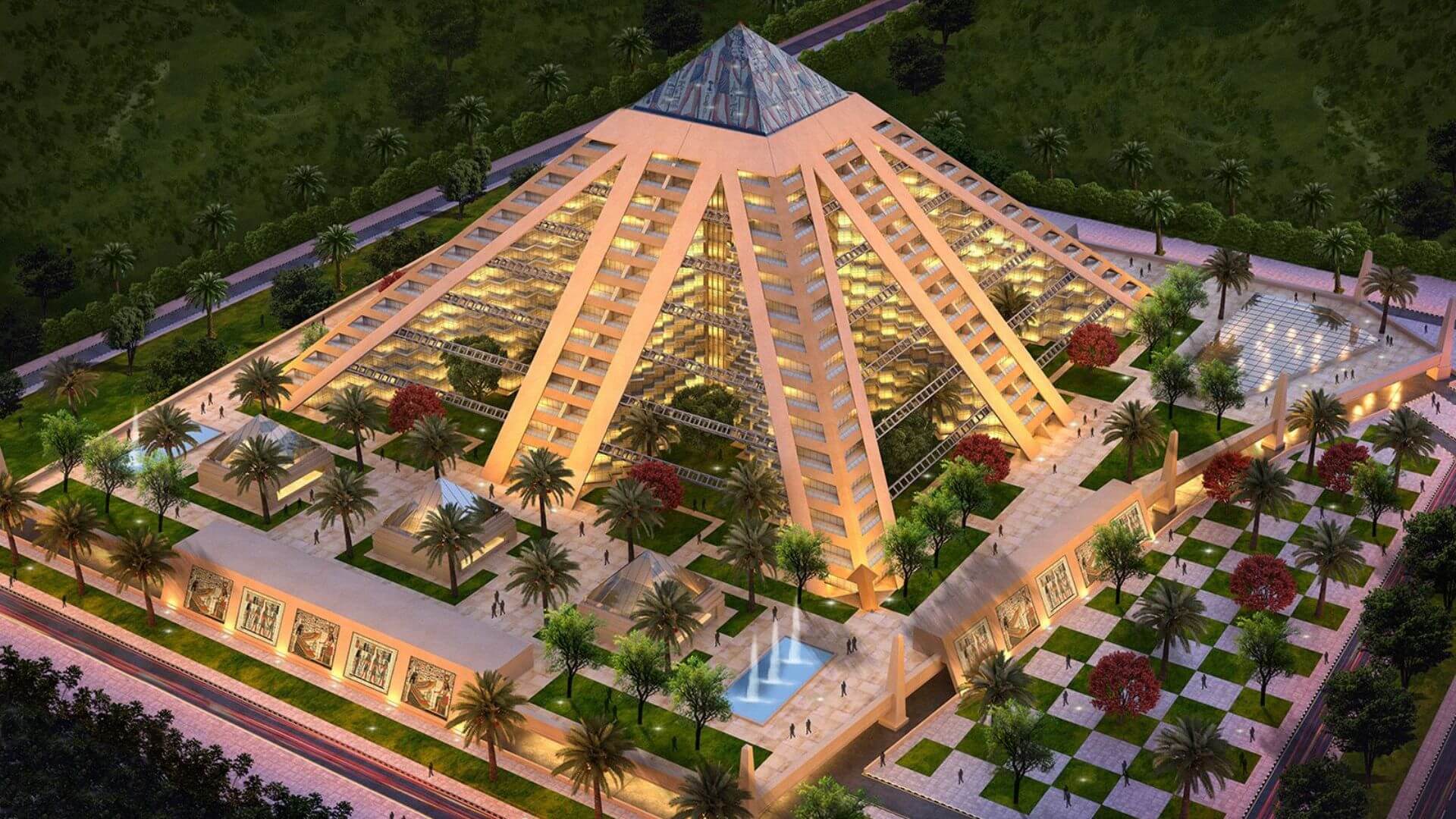 Falcon City of Wonders (FCW) is a large residential, tourist, and entertainment complex in Dubai, spanning an area of 380 hectares. On the map, the complex is in the shape of a falcon. The project was launched by a private company, Falconcity of Wonders LLC, in 2005.
The master development plan of the area includes seven buildings in the form of famous wonders of the world, a branded theme park, commercial and sports complexes, educational institutions, and family recreation centers. The first residents have already moved into housing estates in the community. Construction work is in progress in other neighborhoods.
Structure
FCW includes the following zones, designed after the seven world wonders:
Pyramids Park has three pyramids. The Saam Antares Pyramid will be the largest pyramid ever built. There will be a multifunctional complex of residential apartments, office spaces, and recreation areas. The Saam Polaris and Saam Vega pyramids, having serviced hotel apartments, will have 20 and 10 floors,
Taj Arabia is a community of apartment buildings and multifunctional centers with offices and accommodation facilitie The Taj Arabia Palace hotel will be the central element, resembling the legendary Indian Taj Mahal palace. The hotel will be surrounded by landscaped gardens.
The Tower of Pisa is a multi-story building having apartments and office premises resembling the Leaning Tower of Pisa.
The Dubai Hanging Gardens of Babylon is an eco-friendly complex having apartment buildings, restaurants, and cafes surrounded by numerous green areas, resembling the Hanging Gardens of Babylon.
The Dubai Light House is a complex of commercial, residential, recreational, and retail facilities resembling the Lighthouse of Alexandria.
The Great Wall is a 1,700-meter running track located on the third floor. It is constructed in the Great Chinese style and acts as soundproofing between the amusement park and the residential area.
The Dubai Eiffel Tower is the center of attraction in the commercial sector. It resembles the Eiffel Tower and is surrounded by parks, cafes, landscaped gardens, and fountains. Along the perimeter of the tower, there will be famous brand outlets.
In addition to the key attractions described above, the community is going to include:
A theme park with rides and exits;
Falconcity Mall - in the shape of a falcon's head;
Falconcity Towers - 24 multi-story towers with apartments, hotel rooms, and office space. The buildings and surrounding areas will resemble the styles of different cities and countries. For example, there will be a miniature version of New York's Central Park and a romantic Venice, with a beautiful promenade, open-air cafes, and walking gondolas.