What type of real estate to purchase in the UAE after selling a property in Spain
Recently, foreign nationals have increasingly sold property in their homeland and moved to the United Arab Emirates – according to a report by Global Realty Partners, 20% of buyers of all types of Arab properties, including commercial, are CIS citizens and Europeans. Prices should be carefully considered before selling property. In this article, we compare what housing can be bought in the UAE compared to housing in other countries at the same price.
---
Contents
---
Price criteria
Let's consider what factors influence real estate prices in European countries. These are the criteria:
The location and its proximity to the city center;
View from the apartment windows;
Well-developed infrastructure;
The property's condition;
Age of the house;
The property area.
Now let's look at each of them in more detail.
If you look at any city in Europe, whether capital or a small provincial town, the key criterion is the proximity of the apartment to the center of the city. The closer to the center the apartment is, the more expensive it is.
The next factor that affects the price is the view. If the property is located in or near a coastal area, the sea view will be as key factor. If the property is located in or near a historical city, these old-fashioned sites will hold more appeal and importance. If the property is located in a modern city, a beautiful architectural view greatly increases the price.
Another factor that influences a property's price is how well-developed the infrastructure is. The proximity of places such as kindergartens, schools, shops, public transport, underground, and parks – the closer these facilities and entertainment are to your property, the more expensive it will be.
It is necessary to take into account the property's condition and whether the apartment has been repaired or not. An apartment that is in good repair will be expensive.
However, there are other alternatives that one can consider when the repair is outdated, the view is boring, and there are no shops nearby. Perhaps, the apartment is located close to a historical site. In this case, the price will be high.
Don't forget about new development projects. Quite often, apartments in new development projects are more expensive than secondary real estate in the same area.
Another important factor is the property area.
This list of criteria partially coincides with the list of criteria in the UAE. For example, the property's condition, repair, and area are factors that increase or decrease the value of real estate. However, there are exceptions; the proximity to the central part of Dubai does not greatly affect the price as the city does not have a center, and each community is built with a specific district center, social environment, entertainment infrastructure, and shopping galleries.
Also, the cost does not depend on the age of the house; some places of worship built 10 years ago may cost more than new ones. The cost of housing in the UAE can be influenced by the criterion of how private this property is; housing in club villages will cost more than in open-type neighborhoods.
If we compare real estate prices from different countries, of course, an apartment in the capital or in another large well-developed city will cost more than one in a provincial town or suburb. This is why we are going to draw a comparison in price — we will identify 4 large price ranges and look for successful price comparisons in the Arab real estate market.
Which city in the UAE should one consider moving to:
When foreigners move to the UAE, they choose one of these cities:
Abu Dhabi is the capital of the UAE, a fashionable and high-tech city created for a comfortable life;
Sharjah is the cultural "mecca" of the UAE, suitable for family holidays or family travel;
Dubai is the most popular resort in the UAE with numerous property offers of free ownership for foreigners.
Often, people around the world choose to move to Dubai because It's a modern and innovative city. It's quite easy to obtain a residency permit in the United Arab Emirates, especially if you have sufficient financial resources. One way of obtaining a residency permit is to purchase a property that's worth at least AED 750,000. It should be noted that Dubai is a freehold zone.
EUR 46,432 – EUR 69,648
For this amount, in any major city of Spain you can purchase:
A studio apartment in a new development project of 29 sq. m.;
1-bedroom apartment on the secondary market of 52 sq. m.;
3-bedroom apartment on the secondary market of 54 sq. m.;
1-bedroom apartment in a new development project of 46-59 sq. m.
For this same amount of money, you can purchase the following real estate options in Dubai.
A studio apartment of 45 sq. m. which is located in one of the new residential areas and has good infrastructure. An example can be found in Jumeirah Village Circle.
Another real estate option is located in the Dubai Lifestyle center; it is a full-fledged studio apartment of 35 sq. m. This residential area is a chic development project with beautiful Tuscan-style inspired architecture that perfectly expresses the concept of a beautiful life in Dubai.
A 43-square-metre apartment in the suburbs of Akoya Oxygen combines the advantages of the city and the private life of the country.
EUR 104,472 – EUR 150,904
In Spain, this type of budget allows one to purchase a 2 or 3-bedroom apartment of 73-117 sq. m. However, this does depend on the location of the new residential project. If it's closer to the city center, then the property is worth less and vice versa. Moreover, these residential development projects are all about comfort and class and usually come with well-equipped playgrounds and sports grounds, including a parking area.
In Dubai, for this amount, you can choose real estate in various residential complexes. Basically, these are 2-bedroom apartments with an area of 70-100 sq. m. depending on the location in Dubai:
In Dubai Production City), you can buy an apartment of 90 square meters with 2 bedrooms;
In areas such as Jumeirah Lake Towers, Dubailand, Town Square, or Dubai Sport City, you can find an apartment with a total area of 78 sq. m.;
In one of the most prestigious districts of Dubai Marina near the beach, a buyer can purchase a 1-bedroom apartment of 65-75 sq. m.
Real estate from 104,472 to 150,904 EUR
1

32 m²

Completion date

IV quarter, 2021 (Completed)

51 m²

Completion date

I quarter, 2020 (Completed)

1

61 m²

Completion date

IV quarter, 2020 (Completed)
---
EUR 174,120 – EUR 290,200
Let's have a look at what the real estate market of the United Arab Emirates, or rather, Dubai, has to offer:
A spacious 3-bedroom apartment of 124 sq. m. will cost almost about EUR 255,376.
An apartment with the same space and 2 bedrooms will cost about EUR 266,984 in Downtown Dubai.
In Dubai Hills Estate, luxury 2-bedroom apartments with a Persian Gulf view costs EUR 243,768.
In Dubai World Central, a 3-bedroom apartment of 134 sq. m. will cost about EUR 278,592.
In the industrial area of Jebel Ali, you can easily find a 3-bedroom apartment of 136 sq. m. for EUR 208,944. This location is convenient for those who work close to the community.
In the Silicon Valley of Dubai (Dubai Silicon Oasis), a 3-bedroom property of 153 sq. m. can sell for EUR 278,592. The homeowner assures us that the apartment has a balcony and a fully equipped kitchen. The residents also have access to a spa, a gym, a swimming pool, etc.
Real estate from 174,120 to 290,200 EUR
1

2

73 m²

Completion date

III quarter, 2022 (Off-plan)

2

104 m²

Completion date

I quarter, 2020 (Completed)

2

100 m²

Completion date

IV quarter, 2025 (Off-plan)
---
What to do if you've got an unlimited budget
If you live in Spain and have EUR 580,040, you can purchase a huge spacious apartment in either a luxury new development project or a real palace. What about in the UAE?
In Dubai, the real estate market offers a huge variety of luxury houses and villas with between four to seven bedrooms, several bathrooms, an office, as well as, a fully equipped kitchen. For instance, a villa in the elite residential community of the Arabian Ranches with 4 bedrooms and a property of 300 sq. m. can easily sell for almost EUR 928,640. Here, one can find all the convenient infrastructure, facilities and entertainment.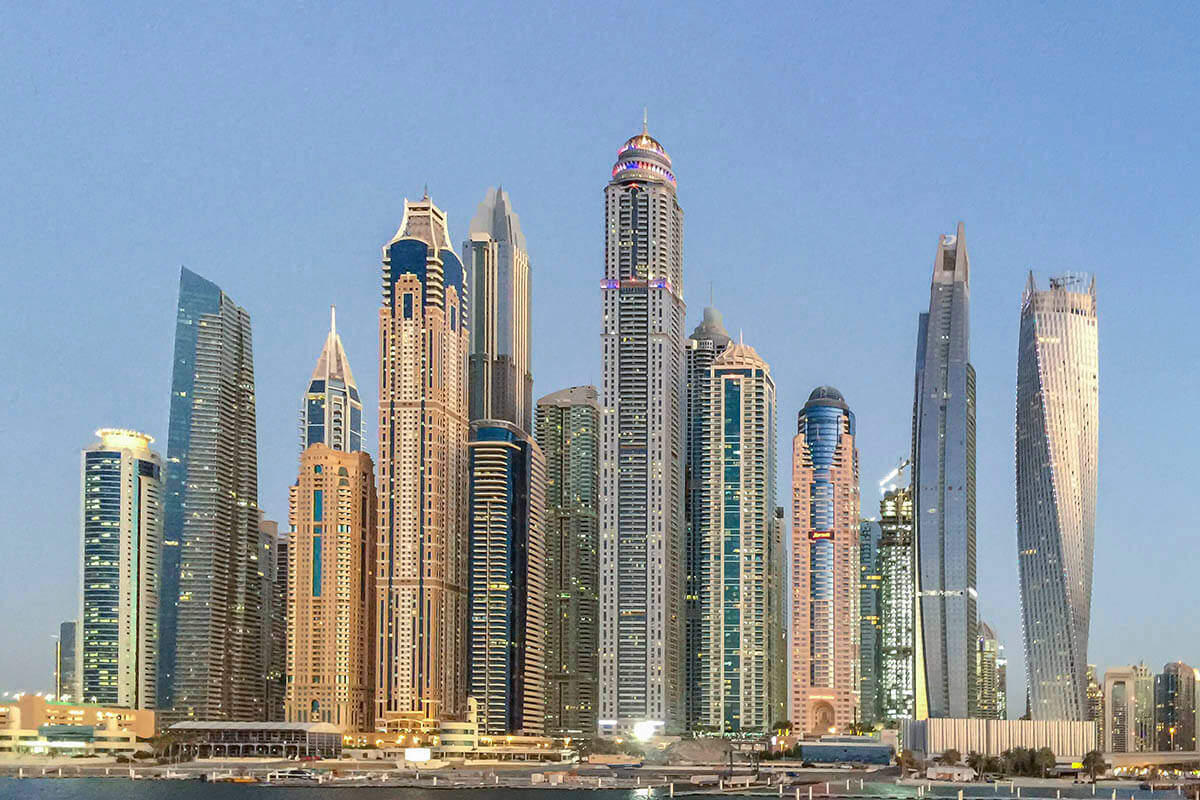 Our assistance in choosing and purchasing real estate in Dubai!
Are you thinking of changing your life and moving to another country? Have you dreamed of purchasing real estate in Dubai for a long time but are afraid that it won't work out? Have you been thinking about a villa or a house by the sea for many years but still do not dare to buy? We are here to dispel all your doubts and help you choose and purchase any property in the United Arab Emirates.
If you are interested in the opportunity to make money on investments property in Dubai, please contact us.