About Emaar Beachfront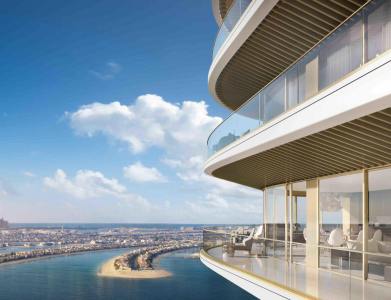 Emaar Beachfront is a new luxury real estate community located in Dubai Marina. The new residential complex is adjacent to the Jumeirah Beach Residence and Palm Jumeirah.
The proximity of Dubai's major shopping centers, the best restaurants, yacht clubs and beaches will ensure a comfortable pastime in developed urban conditions, as well as allow you to diversify your leisure time. There is a developed transport connection in the area, public transport runs regularly. From here you can easily go to the Sheikh Zayed highway, and from there to the main locations of Dubai. The sale of luxury real estate in Emaar Beachfront is open to those who are looking for prestigious housing in Dubai.
The total area of the residential community is almost 1,000,000 sq. m. in luxury real estate in Dubai in Emaar Beachfront. At the moment, Emaar Beachfront is one of the best off-plan projects of Emaar, a major developer in Dubai. The complex consists of 10,000 housing units distributed across 27 buildings, which form a residential association.
Potential buyers of real estate Emaar Beachfront offers the following range of housing:
Apartments with 1 and 4 bedrooms;
Penthouses with 2 and 4 bedrooms;
Luxury villas with up to 4 rooms.
Also, a hotel under the management of Address Hotels + Resorts will be located in the multifunctional complex. Residents, guests and visitors of the hotel will have access to a 1.5-kilometer pristine beach in the Dubai Marina.