About Business Bay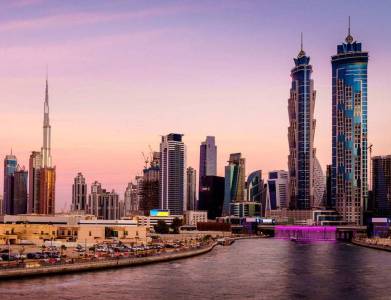 Business Bay is one of the most developed and sought-after areas of Dubai. The very name of the community speaks of its main purpose: the business sphere plays a key role here. However, investments in Dubai real estate for permanent residence or rental are also in high demand. The community harmoniously combines both commercial and residential real estate.
The area is near the central part of the city, next to the Dubai Canal. The construction was based on the commercial purpose of the area, and today it is compared with Manhattan in New York. The office space here meets the most demanding requirements for equipment and convenience. Many international companies, therefore, choose this region of the UAE.
The area of the district is about 6 square kilometers. Commercial, residential, and multifunctional complexes occupy approximately an equal territory in a percentage ratio. More attention is paid to mixed-use.
The community is young when comparing the start date of construction in the old regions of Dubai. For those who are interested in when Business Bay was built, it is said that the start date of construction was 2003. Therefore, properties in Business Bay belong to the elite category. There are a lot of skyscrapers, and the real estate corresponds to a modern style and meets all comfort needs. The community is:
A place with tall skyscrapers.
The center of active life.
A region with a well-developed infrastructure including both the social and business spheres.
The area containing JW Marriott Marquis - the tallest hotel in the world.
The largest attractions are within walking distance.