About Jumeirah Golf Estate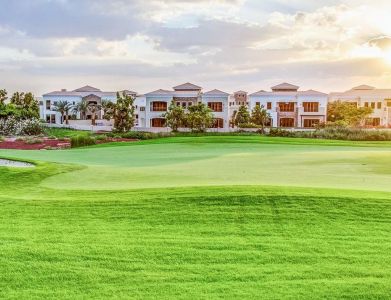 Jumeirah Golf Estate (JGE), is a residential community in Dubai. It is a complex of luxury residential buildings combined with a golf course. Jumeirah Golf Estate is highly lauded by the global golfing community and attracts athletes from all over the world.
Golf is considered a sport of the blue-blooded, thus the entire appearance of the area is imbued with an air of aristocracy. Jumeirah Golf Estate features low-rise luxury houses and unique villas for golf lovers to rest and enjoy their time here. The JGE game club is stylistically divided into four zones corresponding to the four elements of Fire, Earth, Water, and Air. To date, there are two fully developed zones, Earth and Fire, where the golf championship was held. The architect of this masterpiece was Greg Norman, an Australian entrepreneur, and professional golfer. The famous Arab developer Nakheel was involved in the construction of the Jumeirah Golf Estate.
Lush green landscapes, blue lakes, and parks with diverse flora are scenes that can be enjoyed from each property's windows. All residential units are designed in a unique style, the essential features of which are shady gardens, and lovely green alleyways and groves. The residential area consists of 7 districts. All private villas are equipped with the Smart Home program so that you can manage your home via your smartphone. Within the community, you will find numerous restaurants and open-air cafes where you can enjoy wines, natural juices, and other soft drinks. If you are a beginner or do not know how to play golf yet, but would like to learn, then you can sign up for courses at the golf academy with a personal mentor and golfing expert. Equipment is provided free of charge to those players who do not have their own.